Second Time is the Charm
Monica started college at Delta right after high school, but after two semesters she found herself married and living overseas. Now, years later, she's back to finish what she started, and loving every minute of it. And so is her family.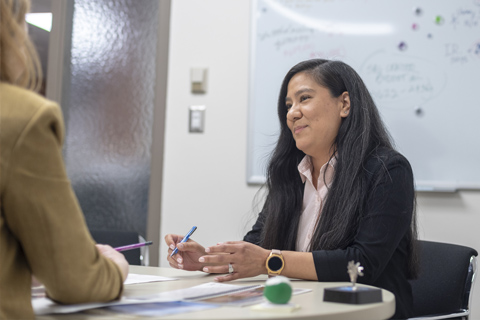 "My family was very supportive of me going back to school," said Monica. "My parents, my husband, my son. Delta helps me inspire others, especially my son, when he sees me doing my homework. He'll grab his books come next to me and start studying with me. It's very touching and helping him get to the right path as well."
Monica took advantage of Delta's 3+1 program, which allows her to take three years of classes at Delta and one year at Northwood University to complete her bachelor's degree. Already she has turned her associate's degree into a promotion at her current job.
"My decision to come back to Delta was to achieve a career," said Monica, who hopes to one day work for the U.S. Department of the Treasury. "I was stuck at dead-end jobs. And I knew I wanted something steady and long-term and so I needed a degree for credentials. So, I decided to fit Delta into my schedule by coming in the evenings."
Support Along the Way
She admits it wasn't always easy, but with the assistance of professors and support staff at Delta College, everything worked out better than she could have hoped as she prepared for her CPA license.
"I never thought I'd have the knowledge or confidence to do it and they showed me the way," said Monica. "I felt that I wasn't good in math or writing and Delta's instructors helped me prove to myself that I could do well in these courses. I also took advantage of Career Services. I was able to get one of my first jobs through Delta. I'm a shy person and their mock interviews really helped me prepare for the job interview.
"I would I tell someone thinking about coming back to school, that Delta is a perfect fit because of the smaller classes, the teachers really do care if you succeed and the low cost."
Monica Corriveau
Accounting student
Northwood 3+1 program
"They are concerned about you learning. They really care if you succeed. Delta was a very positive experience for me."
Are you interested in starting a career in accounting? Delta College is the perfect place to start. Apply now.