Finding Value at Delta College
Joe knew he wanted to be an economist by his senior year in high school. But how to get to his dream job working for the Federal Reserve was another question. Delta College proved to be a great place to start.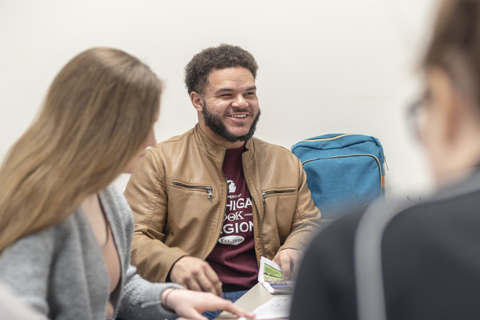 "My Delta experience hasn't changed my future plans, but it instead it has expanded them in a way that I could have never imagined," said Joe, who is transferring to the University of Michigan to study economics. "I was so overcome with emotion (after being accepted to Michigan) to know that I was on the path that I had started to imagine at Delta."
That economics mindset led Joe to another conclusion: Delta provides tremendous value. And when Joe was awarded a Jenkins Usoni Grant Scholarship, one of many scholarships available to Delta students, he was off and running.
"I saw the low cost of attendance compared to universities and I knew I didn't want to incur all of that debt," he said. "I am an econ major, I'm a money man and I knew that this made the most sense. Having a scholarship ensured that I could graduate from Delta with no debt and I am forever grateful for that opportunity."
Joe has since been named one of two community college students in Michigan (and only 61 nationwide) selected from 1,500 applicants to receive a prestigious Undergraduate Transfer Scholarship from the Jack Kent Cooke Foundation. He will receive up to $40,000 annually for up to three years as he completes his bachelor's degree.
Getting INvolved
Thornton found student life at Delta to be rich and rewarding. He was involved in seven clubs, including the Economics Club, which he helped create. He also wrote for the Delta Collegiate, the student newspaper, and was part of the team that won an Apple Award for the top collegiate TV newscast in the nation.
"Working for the Collegiate was a great experience," said Joe, who started as a sports writer and moved on to become editor-in-chief. "To earn the award was a surreal experience that I will never forget."
Joe's time on campus also opened his eyes to the many different types of students that attend Delta and thrive here.
"I have been able to obtain everything that I have wanted from the college and it is a place where you can really make the most of yourself, it's a place where they really make sure that the resources are available and if you want them they are there for the taking."
Joe Thornton
Delta Graduate, Associate Degree in General Studies
Delta Collegiate Editor-in-Chief
Jenkins Usoni Grant Scholarship recipient
Robert and Joyce Hetzler Family Award for Service and Leadership
Undergraduate Transfer Scholarship from the Jack Kent Cooke Foundation
Transferring to the University of Michigan to study economics
"With so many non-traditional students here, you are going to make friends with people that have children, with full-time jobs, and come from all different types of backgrounds," he said. "I made a lot of friends that I talk to about everything and they have an entirely different perspective on the world then I do, just because of the experiences they have had. These are people that I will enjoy for the rest of my life, people that I have made lifelong connections with and I think that is something that is really unique to Delta."
Are you interested in starting a career in economics? Delta College is the perfect place to start. Apply now.