After working as a pipefitter, Joseph is now studying the other side of the trade – mechanical engineering
Joseph has loved building and making "cool things" with his hands for as long as he can remember. Since his days of LEGOs and K'NEXs, he has worked as a pipefitter after high school and now works on home renovations with a local realtor. He found his passion in drafting and is now working toward a degree in mechanical engineering.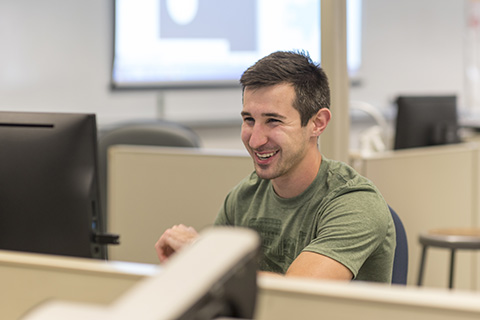 "I became interested in engineering after my last year at Midland High. I started doing pipe fitting over at Dow Chemical. I thought I could draft a little better than some of the other guys. So why not go into industrial piping or mechanical engineering?" he says.
The engineering specialty of industrial piping design studies the efficient transport of fluid. It seemed like a perfect fit to move from the labor side of the trade as a pipefitter to learning how to create piping designs.
"What I want to accomplish with mechanical engineering is industrial piping, since I've done pipe fitting for three years. I see a future in it, more than the labor itself," James explains.
Hands-on and high-tech
Joseph chose Delta because it's affordable, and it's a short commute from home. He also knew he would receive one-on-one time with his instructors and learn real-life technology skills that he will use in his future career.
"One of the programs we learn here at Delta is SOLIDWORKS. It's a 3D modeling system used by many companies around the area. The instructors make it very easy to use."
In addition to learning the latest computer software, Joseph gets to learn first-hand about the latest tests and materials used by engineers working in the field.
"A cool experience so far in my mechanical field has been the tensile strength test. It's where you test any type of metal, anything you can really get your hands on, and pull it apart by machine," he says.
"What I want to accomplish with mechanical engineering is industrial piping. I see a future in it."
Joseph Breen
Delta College Mechanical Engineering student
After Joseph graduates from Delta, he plans to seek out a co-op opportunity or internship with The Dow Chemical Company while he continues working toward his bachelor's degree.
He says, "If I had to describe Delta in one word, it'd be 'hopeful'. Before I attended here, I didn't think I could become a mechanical engineer."
Are you interested in starting a career in surgical technology? Delta College's program is the perfect place to start. Apply now.