A "Shocking" Exit from Her Office Job Led to a New Career Path as an Electrician
Heather's job as a paralegal at a prestigious law firm was more than a daily grind – it was a daily drag. Unhappy and unfulfilled, she wasn't sure she'd ever make a change.
But, as she puts it, life has a tendency to make decisions for you.
"One day I'd had enough, and I quit," she says. "I shocked even myself!"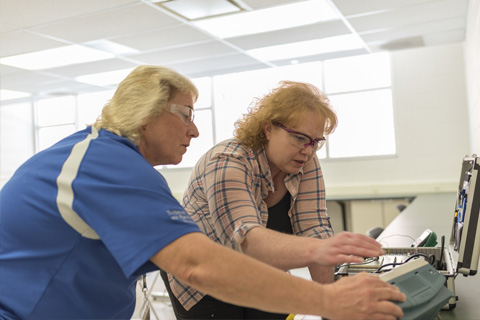 Heather pursued an associate's degree in business management. But she still felt something was missing, and began thinking about her real interests.
"I was always happy with a hammer in my hand, or working on cars or landscaping," Heather says. "I thought: 'How do I turn this type of thing into a career?'"
While touring the skilled trades programs at Delta College, Heather's "light bulb moment" came in the electrical department – she knew it was what she wanted to do. She took the plunge and enrolled, looking to earn an associate's of science degree with an electrical certificate.
"Starting out, I was scared to death," Heather says. "But when I began making good grades, and students started looking up to me as an adult learner, it clicked that I'd made the right decision."
Making Her Grandfather Proud
Grateful to be following her true passion, Heather knows just where it came from.
"My late grandfather supported our curiosity in areas like construction, whether we were boys or girls. We even helped build his retirement home," Heather says. "And my aunt was one of just a few female engineers in the oil industry."
Now, she has new role models at Delta College – she mentions the women in her department in particular, including the department head. And the faculty's practical, hands-on lessons and supportive teaching have her excited to enter the field.
"You're using live circuits, live wiring – I've been able to wire a house as we volunteered with Habitat for Humanity," she says. "The classes and curriculum are real-world."
As she prepares to put that knowledge to use, she recognizes that change can be difficult for a family – and returning to school and switching careers in your forties are big changes. But Heather says her husband and children have been behind her "one-hundred percent."
"Your future career is waiting for you. You just have to take that first step and walk through the door."
Heather Radick
Delta College skilled trades student
Future electrician

And while she doesn't want to encourage anybody to leave a job they enjoy, she hopes to show that a more "electrifying" career is out there for people seeking fulfillment.
"I want to make my grandfather proud and, at the same time, show my kids they have the power to make a change at any point in life," she says. "Your future career is waiting for you. You just have to take that first step and walk through the door."
Are you interested in a career in the skilled trades? Delta College is the perfect place to start. Apply now.