Dual enrollment gives Emily an edge
Emily has always loved school. She's excelled at it. So, when she realized her schedule wasn't full her senior year of high school, she dual-enrolled at Delta. She says, "I got about seven credits, which really set me up to get my associate's done in two years."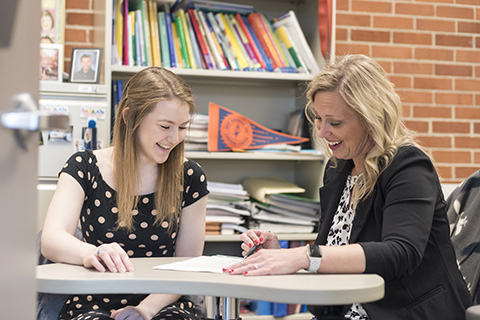 She's earning her associate's in Child Development and will transfer to the University of Michigan in Flint to complete a bachelor's degree in education and minor in dance.
Emily has wanted to be a teacher for as long as she can remember. "When I dream about being a teacher I think of all the children's lives I can impact, being an encouragement for them. Just letting them know they can achieve so much in their lives."
Emily feels prepared for her next step. She credits Delta faculty with being so encouraging. "They always tell us their doors are open to us. They want us to come in with questions. They encourage us to do our best."
Dancing out of her comfort zone
Emily's love for dance began in high school, and she can't wait to incorporate it into her own classroom one day.
"I think it pairs well with education because children can benefit from dance as a physical activity as well as a creative outlet."
In addition to work — and dance — there's other activities that keep Emily busy, too.
After receiving the President's Honors Scholarship at Delta, Emily was invited to participate in the Honors Program and Phi Theta Kappa. "Participation in these activities have really made me get out of my comfort zone," Emily says. "I love people but it was hard for me to assert myself into new situations."
"There's a great since of community at Delta. There's a lot of clubs and organizations you can get involved in and it's a really welcoming place to be."
Emily Gold
Child Development graduate
Emily has really enjoyed her time at Delta. When asked how she would describe her experience she explains, "Incredible. Everything I've encountered — my education, the people, the services that are offered. I just think it's an incredible place to be."
Are you interested in starting a career in child development? Delta College is the perfect place to start. Apply Now.