From the Tennis Court to a Career in Corrections
Inside a prison, a loud noise or sudden shout could be nothing – or it could be the start of a dangerous situation. Either way, correctional officers like Dustin are prepared to step in to maintain safety and order.
It's a challenging job that requires constant alertness and hours on your feet. Fortunately for Dustin, this was already part of his "game" – he used to be a tennis teaching pro.
"There are some similarities between teaching tennis and working in corrections," he says. "The need to be physically fit, the amount of coordination that you're doing … from the moment you get on shift, it's go-go-go."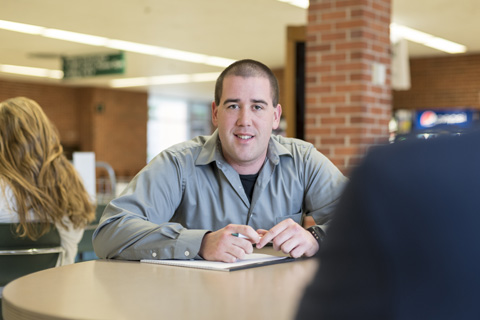 Of course, more than an athletic background is necessary to succeed in a corrections role. Dustin completed the Corrections Academy at Delta College, a 160-hour training course approved by the Michigan Sheriffs' Coordinating and Training Council, which helped him earn a Certificate of Achievement.
More education wasn't always part of the plan. After graduating from Bullock Creek High School in Midland, Dustin spent a year at a large university on a tennis scholarship before leaving to become a tennis instructor in New York. He felt that college might not be for him. But he eventually needed a change, and decided to "pivot" toward his lifelong interest in criminal justice.
With tuition rates very high in New York, Dustin felt Delta would be a great fit for him, and moved back to Michigan.
"I knew I could get a solid education at a lower price," he says. "It was convenient, and I knew the teachers had great experience in their fields."
"What stood out was the connection I had with my teachers. I related to them on a professional and personal basis. I could always talk to them."
Dustin Robinson
Delta College Corrections graduate
Correctional Officer at Saginaw Correctional Facility

As classes got underway, Dustin found that the faculty were accessible and focused on his success. They also shared their real-life experiences in law enforcement to help prepare him.
"What stood out was the connection I had with my teachers," he says. "I related to them on a professional and personal basis. I could always talk to them."
Dustin participated in Delta's co-op program to get on-the-job experience in addition to his coursework. Ultimately, he was ready to step into a role at the Saginaw Correctional Facility upon completing the Corrections Academy, and now has a job that he finds exciting and fulfilling.
The reward of hard work
"The real reward of working in criminal justice is the brotherhood, hands down," he says. "You form a very special bond – it's not something you get working in your everyday office environment."
Dustin plans to return to Delta College for a 3+1 program that will help him earn a bachelor's degree and advance in the field. But for now, he has plenty of work to do in an average day. And while an eight-hour shift is no "walk in the park," it still reminds him of a day on the court.
"Just like with tennis, there's a certain mental and physical toughness you need to have," he says. "Every day, you have to show up and do the same job as best as you can."
Are you interested in starting a career in corrections? Delta College's Corrections Academy is the perfect place to start. Apply now.