Listening to her inner voice leads Casaundra to Delta College
Helping others has always been one of Casaundra's passions. It's why she began a career as a cosmetologist over 20 years ago. "I was helping people make themselves beautiful on the outside." But she realized she wanted to do even more and decided to go into healthcare.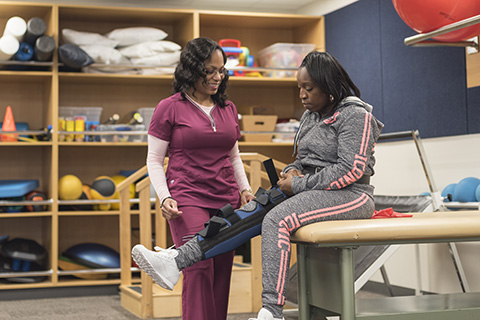 Casaundra's first career in the health field was as a certified nursing assistant. She later became a restorative aid, and it was then that she saw a physical therapist assistant (PTA) working with a patient. She really enjoyed the communication and interaction the two shared and her interest was ignited. She asked the PTA where she earned her degree. The answer was Delta College.
"There was just this voice, it was small, but it was there saying, 'It's not too late, you can still do this'," said Casaundra. "With the physical therapist assisting program I can help people be more than just beautiful on the outside, I can help them from the inside out."
From raising her family to joining the Delta family
Casaundra's focus was her family for many years, so she was naturally a little apprehensive when she thought about going back to school. But she says, "When I got here, it was totally different. I fit right in. It's just like a big family."
As with many families, Casaundra has found support along the way. She even jokes about two of her professors being "like two dads." "They have been a great support to me, they're very encouraging people."
"Delta can open doors you thought were shut."
Casaundra Perry
Physical Therapist Assistant graduate

The support Casaundra found extends outside the classroom as well. At one point, she thought she wouldn't be able to afford to continue school. She applied for and was awarded a scholarship and says, "The scholarship paid for the second portion of my year and I thought that was amazing."
"If I had to describe Delta in one word, it would be 'family.' I feel like I'm coming home every time I walk through Delta's doors."
Are you interested in starting a career as a physical therapist assistant? Delta College is the perfect place to start. Apply Now.