At Delta, Cecilia Found more than she Imagined
What comes to your mind when you think of criminal justice? Law enforcement? Corrections facilities? For Cecilia she thought of criminal justice as a way to help people.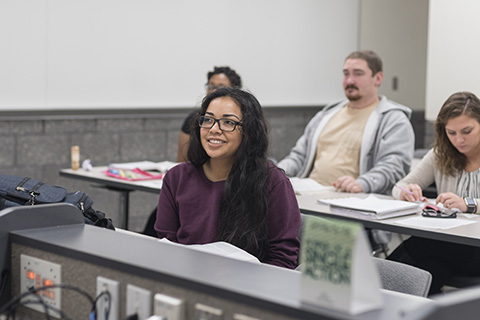 "It is just a different way of helping people," said Cecilia. "You help people when they are in the lowest points of their lives and I think that's something that is really great."
Cecilia enrolled in the three plus one Criminal Justice program that Delta has with Ferris State University, allowing her to pursue a four-year degree and stay close to home. By enrolling into this program Cecilia is able to take all of her Ferris classes right here on Delta's campus, where she also achieved a Certificate in Youth Services.
"I took 85 credits at Delta tuition rates and then I will finish up my last 35 credits with Ferris tuition rates to earn my bachelor's degree," said Cecilia. "I have been able to develop personal relationships with my professors and the Youth Services program opened so many doors for me."
Going
Beyond the Books
Going beyond her classes, Delta benefitted Cecilia in other ways that enriched her experience and added to her educational journey.
"I was the Vice President of Delta's Society of Hispanic Leaders (SOHL) for two years and SOHL was one of my best college memories," Cecilia said.
Cecilia enrolled in the co-op program at Delta where she has worked as a security guard with the Dow Chemical Company, is a member of Phi Theta Kapa (PTK), part of the Hispanic Heritage Board, and went on a study abroad trip.
"Without having come to Delta I don't even know what I would have done. I was able to come here to Delta and really flourish in college, so much more that I thought I would."
Cecilia Olvera

Delta Graduate, Criminal Justice
Transferred to Ferris State University
"I received a scholarship to study abroad and for an alternative break in 2017 I went to Drake Bay in Costa Rica. Here we helped rebuild a school and went on other excursions as a group," she says. "Just interacting with people of different cultures and learning about how important sustainability is to them was very valuable."
Cecilia will be graduating with her bachelor's in December. After she plans to pursue her master's in public administration with a non-profit focus. Her dream job is to one day be a programs coordinator for an agency.
"Delta has changed my plans in a way where I didn't know what I was initially doing, to steering me in the direction that I wanted to pursue in my career," Cecilia said. "I was able to come to Delta and really flourish in college, so much more that I thought I would."
Are you interested in starting a career in criminal justice? Delta College is the perfect place to start. Apply now.