Prepared to Serve and Protect – with More Self-Confidence
Clinton is studying criminal justice at Delta College. But he's also become quite the actor – he volunteers at Delta's police academy to act out scenarios the cadets will encounter in the field.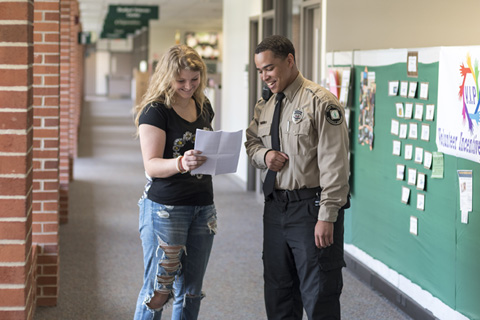 When he's placed "under arrest," he tries to be unpredictable.
"I pretty much improvise," Clinton says. "If they think I have something on me, I might tell them to go check the other guy. If they're not asking me the right questions, I might not comply."
The more Clinton challenges the cadets, the more he helps them learn. He's gotten pretty good at it, which is indicative of how he's grown as a person since starting college.
"By nature, I'm quiet and shy," Clinton says. "But going into law enforcement, you have to talk."
It isn't just his classroom experiences that have made him more outgoing. Along with other activities, part-time work in public safety for Delta has helped Clinton break out of his shell.
"When I see an opportunity, it gets me out of my natural comfort zone," he says. "I get out there and maybe talk to someone who is in the career field. They get to know my face, I get to know their face."
Up for the Challenge
One particularly exciting opportunity came when Clinton decided to break up his work/school routine by joining the Army National Guard.
"When you join the military, no mater how good of shape you're in, they're going to push you," Clinton says. "If you're a football player, a pro champion something-or-other, they're still going to tire you out."
The experience gave him a boost of energy and confidence as he prepares to finish Delta's 3+1 criminal justice program with Ferris State University. He'll spend a fourth year at Ferris to earn his bachelor's degree.
When Clinton graduates, he plans to follow in his dad's footsteps and enter law enforcement. He'd prefer working in the Detroit, Saginaw or Flint areas. They're "busy," and he wants the experience.
"I'm quiet and shy. But going into law enforcement, you have to talk."
Clinton Keene
Delta College Criminal Justine student
Active member of the Army National Guard

"Eventually, a goal of mine is to join a SWAT team," he says. "They're very elite. It could be with the Michigan State Police or the FBI."
Reaching elite status starts with the basics. Clinton says Delta's "friendly" environment has helped him learn and retain skills such as writing police reports and working with juveniles. Resources from Delta's disability services have also helped with his dyslexia – a reading disorder.
Though he'll miss the many supportive people he's met at Delta, Clinton is excited to be nearing the end of his degree program.
And as someone who has spent time "improvising" to keep police trainees on their toes, he'll be prepared for the next step involving tough, real-life situations.
"I love challenges," he says.
Are you interested in pursuing a career in criminal justice or law enforcement? Delta College is the perfect place to start. Apply now.