Connie Found her True Passion While Taking Classes at Delta
A mother of three, Connie began taking classes at Delta in 2009 and found herself unsure of what career field she truly wanted to pursue. Initially starting school to become a dietitian, Connie switched and enrolled into the Criminal Justice program and began taking social work classes. It was here that she found her true passion social work.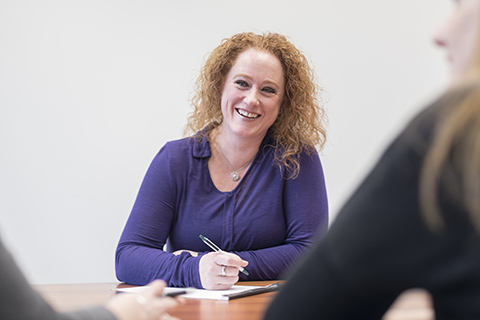 "I'm interested in youth services. That's where my passion is. I want to be able to work with youth and help mentor and foster them," Connie says. "I just really want to be that person that can help guide them."
With three kids, Connie was prepared for the difficulties that can come up with scheduling college courses, but Delta turned out to be a perfect fit for her and her family. "I could take evening classes while my husband was at home with the kids, early morning classes while my kids were in school and online classes so that I could still be at home with my children in the daytime."
The financial burden of going back to school on her family was always a concern of Connie's. However, she found herself able to overcome this obstacle through various loans, grants, and scholarships.
"If you are having any apprehension about attending Delta, just call and make an appointment to see an advisor," Connie says. "They will help you get over that hurdle of being nervous or scared."
A Sense of Community
Connie gives a great deal of credit to the teachers and faculty at Delta with influencing her, helping her achieve her goals and making her time at Delta memorable. "Delta's faculty has always been amazing." Connie says.
As her time at Delta progressed, Connie more and more came to notice the sense of community at Delta. Along with the caring faculty she also noticed students, varying in age, who worked together forming the best kind of atmosphere.
"Students here seem to really want to help each other out and help each other succeed," Connie says. "You would see professors in the hallways who would stop to see how you were doing, even after you had them two years ago. It's a very friendly environment."
"There are so many things about Delta that made the difference for me to want to go into social work."
Connie French
Delta Graduate, Youth Services
Transferred to SVSU to study Social Work
Connie is currently continuing her education at Saginaw Valley State University (SVSU) in the Social Work program there. She eventually aims to go for her master's degree and hopes to start her own practice to help mentor children and youth, with Delta being her starting point.
"Delta has been amazing. I had great people around me and amazing mentors who helped me push through," Connie says. "Delta helped me to think big by the amazing professors that helped me when I felt like I couldn't do it and they told me that I could because they had faith in me."
Are you interested in starting a career in social work? Delta College is the perfect place to start. Apply now.