Brandon is Rebounding at Delta
Before coming to Delta, Brandon began his college career by attending two different schools, but didn't quite find what he was looking for. He made his way to Delta though, where he joined the basketball team and found success on and off the court.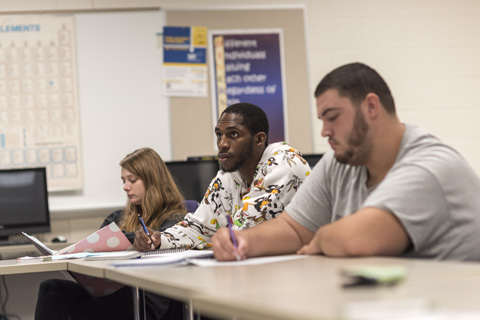 "Once I got here it was different," said Brandon. "The atmosphere just made me feel welcome and my classes here have been really exciting.
Brandon developed a passion for building and designing as a kid and that passion led him to pursue engineering for his career.
"Delta is a great first college experience! It shows you what to look for, what to expect and it helps you build habits. And, once you go into a bigger university you can carry on those same habits," said Brandon.
To help him along through his Delta journey, Brandon took advantage of many of Delta's student resources such as academic advising.
"Academic advising was a big help in my career here at Delta," said Brandon. "I told them what I wanted to do and they sat down with me and started correlating the classes I needed to take that went along with a good engineering program."
Along with student resources, Brandon has high praise for Delta's teaching staff. "All of the teachers here actually care. I have never been to a college where professors are working hands on, want students to succeed and actually care," he says.
A Slam Dunk Experience
Brandon is very involved around Deltabeing a part of the Student Leadership Academy (SLA), as well as being the President of Men of Delta. Men of Delta, which is a leadership program, looks to mentor young men and help build them as leaders and as people.
"It is a great atmosphere," said Brandon of Men of Delta. "It is good to be a part of, because it helps to give back."
Along with these clubs Brandon is also on the Delta College men's basketball team, which placed fourth in the nation last season.
"Last year was a very exciting season. I have never been a part of a brotherhood that was so strong," said Brandon. "Basketball has benefited my education because our coach has taught us that life is bigger than basketball, and some of the things he is teaching us apply off the court as well."
"Coming to Delta has helped me get closer my dreams then I ever thought I would be."
Brandon Brackett
Mechanical Engineering Technology student


Delta College student leader
After graduating from Delta Brandon plans on enrolling at Michigan Tech where he aims to get his bachelor's and master's degrees and then head for his Ph.D. in mechanical engineering.
"Delta influenced me to get out there and try more, exposing me to a lot of things I never thought I would ever come close to," he says. "Coming to Delta has helped me get closer my dreams then I ever thought I would."
Are you interested in starting a career in mechanical engineering? Delta College is the perfect place to start. Apply now.