Originally undecided, the Michigan Transfer Agreement helped Anthony plan his path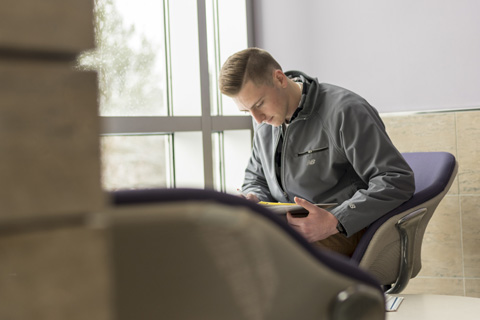 Anthony started at Delta right after high school. Like so many other students, he didn't know what he wanted to do. He chose the Michigan Transfer Agreement (MTA).
The MTA is the result of all the registrars at all the Michigan community colleges and public universities working together to ensure you can transfer 30 credits to any of those colleges – guaranteed.
Even though the MTA is a one-year program, Anthony liked Delta so much he decided to stay. He'll complete an Associate in Arts before transferring to a local university to earn a bachelor's degree in secondary education. He wants to be a high school history teacher someday.
Projects that matter, faculty who care
In high school, Anthony was required to complete 100 community service hours. "I was just thinking about the requirement. I wasn't thinking about how I'm going to help my community," he said.
But the Civic Engagement project at Delta was different. When students from Bay City and Saginaw came to campus to learn about being safe in their towns, Anthony led a project in the Science, Technology, Engineering and Math (STEM) Explorer that involved using virtual reality googles. It was the first time many of the students had used this technology.
"And seeing that glow on their faces was awesome. The kids we worked with were amazing, and now I really want to be a part of my community more and more," says Anthony. "And, knowing that I could do that every day of my life — it really inspired me to become a teacher."
"Delta is helping me pursue my goals by giving me the education that I need to be a history teacher."
Anthony Niemiec
Future high school history teacher
Although he was a little overwhelmed by the project at first, he said his instructor broke it down week by week into steps. According to Anthony, "It was probably one of the best things I've done here at Delta."
When asked what he would say to someone considering coming to Delta Anthony replies, "It's the best decision I've made. I'm saving a lot of money. The faculty here is amazing."
Are you undecided about where to begin? The Michigan Transfer Agreement (MTA) at Delta College is the perfect place to start. Apply now.