Online classes fit perfectly with a working mom's busy schedule
After high school, Abby was signed up and ready to start classes at Delta. Before her classes started, she was offered a full-time job and had to make the difficult decision to postpone her college plans.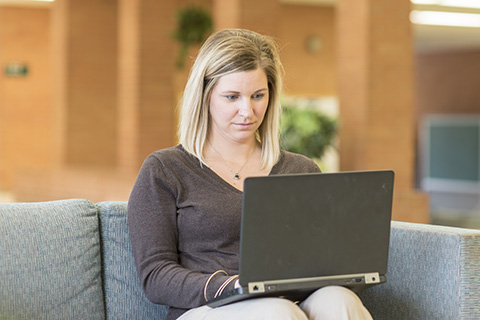 "A full-time job meant more than college at that time, it was money in my pocket. I was young, a young kid. But now, going back to school is in my best interest to further my career," explains Abby.
Now, with her schedule filled with working full-time and having a family, it's not easy to carve out time to go to class each week. Delta's online Business Management Associate's degree was the perfect solution to her busy life.
"I chose the online program because I have two little kids that I have to tend to. I don't have to find a babysitter or take time away from them to go to school. I also work full-time. So, having the ability to do homework before or after work and throughout the day makes it a lot easier."
Overcoming the fear of making it all work
Making the decision to go back to school wasn't an easy one. Abby was already juggling work and family and wasn't sure she would find a program that fit her busy life.
"There were obstacles and fears that I had to overcome before coming back to school. I wasn't sure there was going to be a program out there that fit my needs because I have to work full-time. I am a full-time mother. This online program gives me the flexibility that I need."
In addition to finding extra time for coursework, online classes come with their own set of challenges. Some struggle with time management and the lack of in-person support, but Abby's worries were quickly calmed once she started her classes at Delta.
"People say it is a struggle to do online courses. But, I've had great experiences with all my professors. All I do is send them a quick email letting them know I'm having trouble and they quickly respond. They also have office hours so you can come in and get a helping hand with whatever troubles you are having. It's very helpful. They're very understanding."
"I have to work full-time. I am a full-time mother. This online program gives me the flexibility that I need."
Abby Frisbie
Business Management Online student
So, what's next for this super mom? Abby plans to transfer to Northwood University and pursue her bachelor's degree. She's ready to find a job and settle in to a career that she loves. And, she credits the help she has received at Delta for giving her the confidence to follow that dream.
"Delta has shown me that I can return to school, I can get the degree and I can move forward."
Are you interested in starting a career in business management? Delta College is the perfect place to start. Apply now.