Told She'd Never Be a Nurse, Justine Proved Her Doubters Wrong with Delta's Help
In a world where the message is typically "chase your dreams," Justine was told otherwise – and it was painful. In her home state of Florida, she'd enrolled in a nursing program where she was struggling. The faculty had little sympathy.
"The instructor told me: 'Just marry someone, that's what you'll be good at,'" Justine says. "They told me not to go into nursing – that I couldn't do it."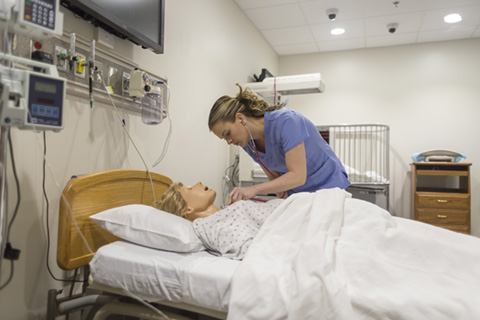 Those words would have a lasting impact on Justine's self-esteem. They haunted her, even after she moved to Michigan, enrolled in Delta College's nursing program and started seeing more success. But this time around, the faculty wasn't just supportive – they practically became family.
"When I'd start to feel insecure again, there'd be an instructor saying I was going to achieve this," she says. "Not 'you can do this,' but 'you are going to do this.'"
The encouraging Delta environment would change Justine's life. She is now a night nurse at Covenant HealthCare. And she has one message for her doubters:
"I did it."
Round Two – Graduating With Honors
It took courage to return to school, especially since Justine has dyslexia, a reading disorder. But soon after enrolling, she could tell things would be different.
"I felt comfortable here," she says. "Being dyslexic didn't matter any more. I was going to finish the program and the instructors were going to stand by my side."
Justine readily admits that nursing school was tough. But it was also fun and fascinating, and she emerged feeling prepared for situations with real patients. She credits the advanced technology in the Delta program. In particular, she mentions the hands-on experience of the simulation labs that create realistic medical scenarios with computerized mannequins.
"The first time I walked into the sim lab, the mannequin started moving and breathing – I jumped!" Justine says. "The eyes, when they'd open and close, they were so alive. In my job now, I can think back to the sim lab, take a breath and remember what to do."
"Being dyslexic didn't matter any more. I was going to finish the program and the instructors were going to stand by my side."
Justine Braeutigam
Delta College Nursing graduate
Living her dream as a nurse

Justine plans to further her education to advance her career. And she hopes to return to Delta as an instructor to help others achieve their dreams of becoming nurses.
When she thinks back to graduation, she still gets emotional.
"When I walked across the stage and my family got to see that, and my kids were there cheering me on … there are no words to express that feeling," she says. "Being told you can't do it, having a learning disability and then graduating with honors … this program will be forever with me."
Are you interested in starting a career in the nursing field? Delta College's nursing program is the perfect place to start. Apply now.