Come to the STEM Festival
September 8, 2017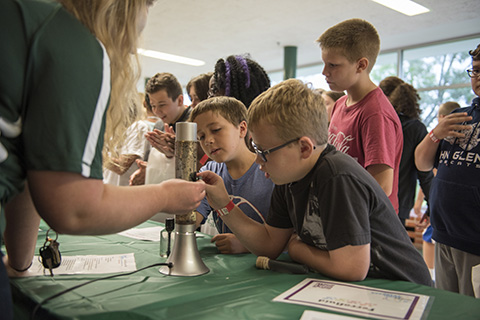 Walking on water, 60-second ice cream and objects floating in mid-air are just some of the marvels of science that you'll experience at the Dow Great Lakes Bay STEM Festival at Delta College. The festival is free and open to the public on Saturday, October 7 from 10am-4pm.
Mind Trekkers, a traveling, hands-on science and engineering show from Michigan Technological University's Center for Pre-College Outreach, and Delta College faculty, staff and volunteers are working with over 29 STEM partners to bring more than 150 science, technology, engineering and math (STEM) activities to the festival.
"Our goal is to create a spark and create an environment of excitement and interest in science and technology," says Cody Kangas, director of the Center for Pre-College Outreach at Michigan Tech.
The first day of the festival, Friday, October 6, will host middle school students during morning and afternoon sessions. Over 3,500 middle school students and chaperones are registered to attend. On Saturday, October 7, the festival will be free and open to community visitors of all ages.
"Our STEM Festival is an excellent opportunity for families to explore the worlds of science, technology, engineering and mathematics in an engaging, exciting and informal environment," said Cindy Drake, Delta College Professor of Biology and Event Coordinator. "Students of all ages can experience the 'WOW' of STEM through fun hands-on activities while also learning more about the many profitable STEM careers available in our area."
The STEM Festival premier sponsor is The Dow Chemical Company. Midland Area Community Foundation, Saginaw Community Foundation, Bay Area Community Foundation, MDOT, and SC Johnson, are also proud sponsors of the event.
For more information visit STEM Festival or contact the Science and Mathematics Division by emailing scimath@delta.edu or calling 989-686-9245.