Distinquished Alumni
November 13, 2017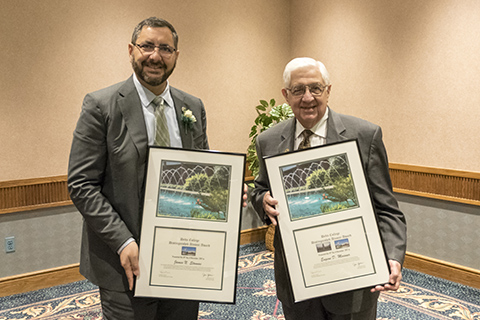 Delta College presented its annual Distinguished Alumni Award to two area residents, retired attorney Eugene Mossner of Frankenmuth and Michigan State Senator James Stamas of Midland. The awards were presented at a special luncheon on November 10, at the Great Hall in Midland.
Mr. Mossner is a 1950 graduate of Bay City Junior College, the predecessor of Delta College. As an attorney, he argued cases before the Michigan Supreme Court, the Michigan Court of Appeals and the U.S. Federal Court in Cincinnati. He is the only Saginaw attorney to have served as President of the State Bar of Michigan, and he is the former President of the Michigan Trial Lawyers Association and the Saginaw County Bar Association. Since his retirement in 1991, he remains active with the State Bar of Michigan and a number of pro bono attorney groups that provide legal counseling for elderly and low-income citizens.
Mr. Stamas is a 1997 graduate of Delta College who was elected State Senator for Michigan's 26th District in November 2014, representing Alcona, Alpena, Arenac, Gladwin, Iosco, Midland, Montmorency, Oscoda, Otsego and Presque Isle counties. He is a former State Representative (three terms) and was elected Majority Floor Leader for the 96th and 97th Legislatures. He has served as a Midland County Commissioner, a Midland Township trustee, and on the boards of the Midland Downtown Development Authority, Midland Downtown Business Association and Midland County Planning Commission. He is the owner of Pizza Sam's in Midland.
Read more about Delta's Distinguished Alumni Award, the criteria for the recognition and past recipients.