Become a CNC Machinist
September 20, 2017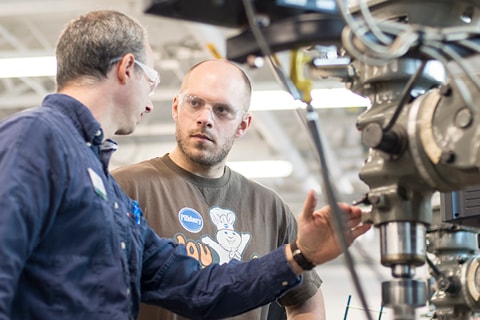 Gain the skills needed to operate computer-driven lathes, mills, lasers and other machines to create the materials used in everyday objects with Delta College's computer numerical control (CNC) certificate programs.
After a $2.3 million renovation in 2015, the number of machines and equipment in the computer numerical control (CNC) lab is very impressive. Delta's lab has the equipment and technology to give hours of hands-on experience.
"Delta College is fortunate because we recently received a one million dollar grant that allowed us to purchase all new equipment for our lab. We added all new technology that's being used in today's industry. In addition to that, we also have entrustment partnerships with other companies where they actually put their equipment on our floor, and allow us to teach on it. This gives us the latest and greatest technology to teach on at no cost to the college," said Terry Morse, the Computer Numerical Control Program Coordinator.
In addition to state-of-the-art technology, Delta's CNC faculty are accomplished experts in their fields who provide individual, hands-on learning. Each has worked in the field and, combined, have nearly 150 years of teaching experience.
You have options
Thinking about beginning a new career? Each spring and summer, Delta offers the accelerated CNC Certificate of Achievement program. You can start in the spring and get an entire certificate in 14 weeks. It's called a 'laddered program' because the courses you take count toward the next step up – the Advanced Certificate. It's a great way to explore the career field or gain skills to accompany another technical trades and manufacturing degree.
"When the economy started to turn around, there was a lot more of a need for machinists. So we've been training machinists in an accelerated format since 2012, and we have a lot of displaced workers, or workers who need to be trained for a new career," explained Morse.
Find out more
Learn more about Delta's Computer Numerical Control (CNC) program or contact Terry Morse, Computer Numerical Control Program Coordinator, at terrymorse@delta.edu or 989-686-9258 with questions.